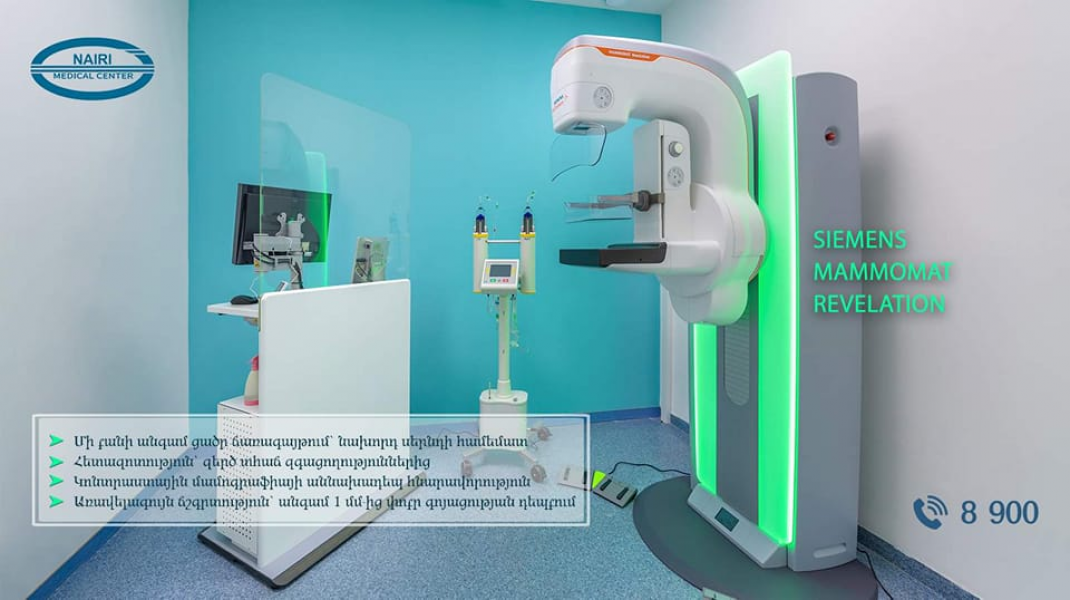 Breast Care Center
19 November 2021 | News | Gynecological tumors | Gynecology and Women's Health | Mammography
Nairi Medical Center has a breast health center that provides early detection of breast diseases with the help of new generation mammography, computed tomography, magnetic resonance imaging, ultrasound and laboratory tests and the team work of leading Tumor Board professionals.
The advantages of mammography are:
Siemens Mammomat Revelation mammograph has many times lower radiation due to the latest Low dose technology
The research is free from unpleasant feelings,
For the first time, an unprecedented opportunity for contrast mammography has been created, which provides the most accurate diagnosis possible before a biopsy.
Reasonable biopsy is a strong indication for developing an accurate treatment strategy, during which a stereotactic biopsy is performed with 3D targeting.
As a result, maximum accuracy allows you to obtain tissue even from a formation smaller than 1 mm.
The Breast Health Center is designed to create a professional team for early detection of breast disease- the Tumor Board, which works with the following procedure.
Preliminary examination in the polyclinic, gynecological offices, where screening examinations and patient self-examination training are performed.
If any abnormalities are found, a follow-up examination guide is carefully designed to refer the patient to a breast health center.
The center performs mammography, expert breast ultrasound examination, magnetic resonance imaging, computed tomography, laboratory (determination of oncomarkers), histological examinations.
Based on the diagnosis, treatment tactics are determined through careful consultation with the Tumor board, which includes a mammologist, oncologist, radiologist, histologist, and chemotherapist.
And a psychologist and cosmetic surgeon will help you recover quickly and smoothly.


---
---
Similar articles
View all
Sign up here for our newsletter