Armenia is a country in the crossroad of East and West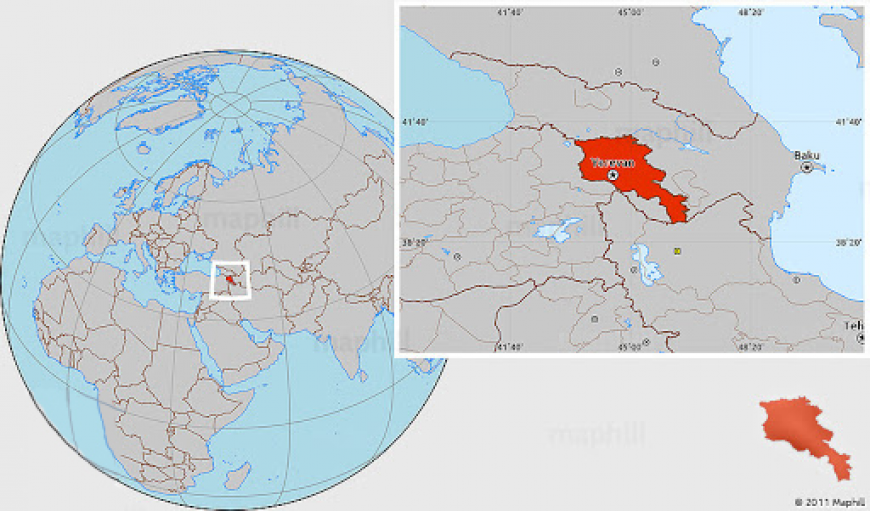 Armenia is a country in the crossroad of East and West
29 July 2020 | About Armenia
Where is Armenia?
Armenia, a mountainous country in the South Caucasus, that lies at the crossroads of Europe and Asia. To the North the country neighbors with Georgia, to the North-East and the South-West with Azerbaijan, to the East with the Republic of Artsakh (unrecognized state), to the West with Turkey, and to the South with Iran. The longest length from the North West to the South-East is 360 km, from the West to the East is 200 km.
The location of Armenia is a reason for the unique landscapes and the development of unique culture and traditions throughout thousands of years. The country encompasses the best of Europe and Asia, combining the two into a mix of unforgettable experiences. Mountain valleys, extinct volcanoes and rapid rivers make for a magnificent scenery. It's to no surprise that in Ancient Armenia people once worshiped the nature itself as the landscapes and the wildlife of Armenia are hard to forget.
Climate in Armenia
Armenia has an astounding array of landscapes within its borders, including seven geographic zones, from deserts and semi-deserts to alpine and sub alpine meadows. The largely volcanic mountains and the tectonic activity has pushed Armenia up above the clouds, stimulating the true range of the four seasons; hot and sunny summers, cold and icy winters, and the beautiful flora of spring and fall. The falls in Armenia are absolutely astounding, lasting longer than the spring season and opening up to people unforgettable landscapes. Whether it's skiing during winter, celebrating festivals in spring, paragliding throughout summer or enjoying the Armenian wildlife in autumn, there's always something for everyone to do in Armenia.
Time Zones
Local time in Armenia is four hours ahead of Greenwich Mean Time (GMT + 4), eight hours ahead of Eastern Time (EST +8) and eleven hours ahead of Pacific Time (PST +11). There is no daylight saving time in Armenia.
Geographic Facts about Armenia
The highest point in Armenia is the Aragats mountain that is located 4,090 metres above the sea level. Aragats is also the highest point of the Lesser Caucasus.
The longest river in Armenia is river Araks, the length of which on the territory of Armenia is 158 km. However, the full length of the river is 1,072 km as it flows through Turkey, Armenia, Azerbaijan and Iran.
Only a very small percentage of the country (3%) lies below 650m above sea level. The lowest point of Armenia is the gorge of the Debed river which lies 380m above sea level.
The largest body of water in Armenia is Lake Sevan which also happens to be one of the largest high-attitude freshwater lakes in all of the Eurasia.
armenia.travel
---
Sign up here for our newsletter