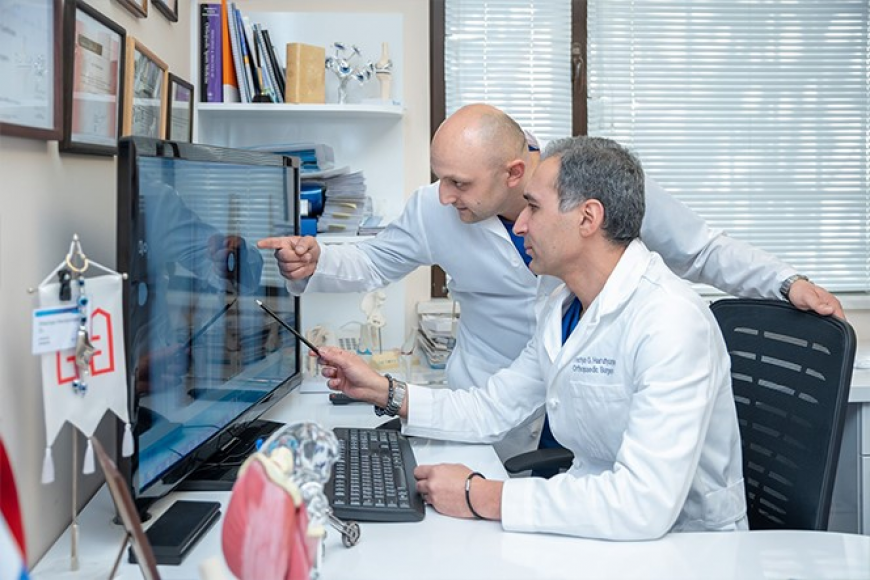 Clinical case of gonarthrosis of both knees in adult with un unprecedented success
20 May 2020 | News | Orthopedics and Traumatology, "Coxa" Clinic | Hrachya G. Harutyunyan
In Armenia, arthrosis, in general, and diseases of hip and knee joints (coxarthrosis, gonarthrosis) in particular, occur quite often and are widespread.

A wrong stereotype was formed that the results of knee joint surgeries are not so positive, and we have been trying to change that stereotype for three years. Few years ago, we had a rare clinical case.

A female born in 1937 with the gonarthrosis of both knees came to our medical center.

Mass index of her joint was quite high-37. Mass index is the combination of weight and height which indicates the percentage of human obesity. Normally, it is 25. 25-30 is the average rate (allowable obesity), 35-40 is the second degree of obesity, where the risk factor is high. More than 40 is considered as very high-risk group in orthopedics and, in general, in the field of surgery. On such cases surgery is not allowed.

The hospitalized patient's mass index was 37, she was old, she had pain in knee joints. Besides there were very large, about 30 degrees, valgus deformities. During 2.5 months two-staged surgeries were performed, in both cases calf muscle component was used. Six weeks after both surgeries the patient stopped using crutches.

She felt so good that later applied to us to correct deformity of the toes (hallux valgus). Around seven months have passed since these three surgeries, the patient walks, she has no complaints in the region of knees as well as around the feet.

The above-mentioned clinical case in adult with deformities of both knees, with an effective outcome is a great success not only for Armenia.
---
---
Similar articles
View all
Sign up here for our newsletter